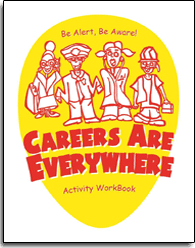 Careers are everywhere. More than just the title of this career-related elementary level activities workbook, the fact is that children start the process of exploring the world of work as early as the elementary grades. With each class they take, with each life experience, they gain a greater awareness of the nature of work and begin to form ideas about their future career roles.
The activities in this workbook are intended to be fun and challenging. They have been designed around the building blocks of the elementary National Career Development Guidelines with the goal of raising career awareness. Specific objectives of the workbook include the concept of self-knowledge, the development of a basic understanding of interests, likes and dislikes and how to interact with others. The various activities are also designed to raise awareness of the relationship between work and learning, the awareness of how work relates to the needs and functions of society and the interrelationship of life roles. The elementary grades are also a good time to introduce the importance of personal responsibility and good work habits and the benefits of educational achievement.
View how the NCD Guidelines are implemented in Careers Are Everywhere!
Click on the links below to view, print or download selected pages of Careers Are Everywhere! or download the entire book in one file. The files are in PDF format, so you will need Adobe Acrobat Reader to view the pages.
Order Careers Are Everywhere!